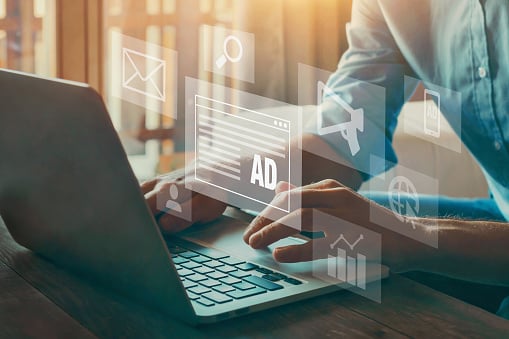 The Importance of Digital Marketing for Small Business Owners
Digital marketing has seen tremendous growth as a marketing career path, with no signs of slowing down—but even if you aren't looking to change careers and become a marketing expert, this skillset is critical for small business owners and others working to attract and convert customers. Read on to learn why, and how you can get started on your digital marketing learning journey.
Why is digital marketing important for business?
When internet users are comparison shopping, they'll default to the business that provides the best customer experience. Basic information like hours of operation, location, prices, special offers, and contact info should be easy to find. If customers don't feel that your digital store is open at their convenience and on their terms, they will find another store.
That being said, online marketing is much more than a defensive play. It's not just about keeping potential customers away from competitors. Instead, think of it as a proactive strategy that shows customers that a brand has thought about them and their purchase journey. An effective digital marketing strategy starts with making that journey as easy as possible, even for brands that are not strictly focused on e-commerce.
Does digital marketing replace traditional marketing?
Embracing digital marketing doesn't mean you must abandon all traditional marketing efforts. Instead, leverage digital marketing to go deeper on traditional campaigns. Digital media such as videos, photos, and audio can provide context, depth, or clarity around advertising claims you've already made.
What are the benefits of digital marketing?
Digital marketing offers many advantages over traditional advertising methods, such as print ads and direct mail, billboards, TV and radio. It allows brands to do more with their resources while empowering the customer to do business with that brand on their terms.
At a minimum, online marketing allows customers to find the information they need even after you've closed up shop for the night. It gives them the option to email questions at any time, rather than forcing them to call during business hours; it puts your interactions on their schedule and not the other way around.
Done well, digital marketing is the ultimate way to build authority and brand awareness in the largest market on Earth: the Internet. Brands can engage directly with their target audience through social media to learn exactly what consumers are looking for, and forge authentic relationships that create trust and brand loyalty.
In short, the importance of digital marketing goes beyond making a sale; it is a long-term investment in the health and growth of your business. Here are some of the benefits of adding digital strategies to your marketing plan:
1. Reach
Most types of digital marketing are far less expensive yet have far greater potential reach than classic strategies, making digital ads a cost-effective choice for small businesses who are worried about ad spend.
Direct mail and billboards depend on customers living in a certain area, while radio and television demand that consumers pay attention to specific media formats that are falling further and further out of style. By comparison, online marketing can reach anyone, anywhere, even on a global scale.
Most potential customers are using mobile devices, or are at least spending a big chunk of their day online. Brands can use content marketing, email marketing, social media marketing, and other digital marketing channels to meet those customers where they are.
2. Targeting
Digital marketing tools and analytics can help brands identify and target customers who are most likely to want their products or services, so they can invest resources into the demographics where they will deliver the most value. A strong digital marketing strategy enables companies to better use their budget and personnel while driving greater return on investment.
3. Flexibility
Modern marketing analytics tools provide real-time insights that let businesses adjust marketing campaigns on the fly. In contrast, traditional marketing methods demand sunk cost: The money is already spent, and if the campaign fails, there is nothing to be done until the next one. A faulty digital campaign can still be salvaged, and so can the money spent on it.
4. Measurability
Unlike billboards, TV ads, and radio jingles, digital marketing channels come hard-wired with the tools brands need to measure performance.
"These days, it is critical for marketers to have a fundamental understanding of analyzing customer and market data in order to make informed decisions," said P. K. Kannan, Dean's Chair in Marketing Science at the Robert H. Smith School of Business at the University of Maryland and instructor for the Fundamentals of Digital Marketing course.
It's easy to see how many impressions, clicks, and likes are being generated by social media posts, or how many visitors are coming to your website and from where. Attribution modeling traces a customer's first sale back to their first point of digital contact with your brand. Choose the metrics you value most and start learning how your digital marketing campaigns affect conversion rates.
5. Legitimacy
Potential customers are more likely to trust businesses that have an online presence that includes:
A website
Testimonials
Social media accounts
A healthy online presence shows that a brand is established and trusted. Trust can make or break the deal for consumers who are considering a new product or service.
Tip: Collaborating with influencers on social networks is one of the most powerful ways to improve your brand reputation.
6. Democratization
Digital marketing (when done right) can level the playing field for small businesses competing with major corporations. Amazon, Walmart, and other big box retailers may have the deepest pockets, but money can't buy search engine relevance. The only way to land at the top of the Google results page is to establish relevance through strategies like pay-per-click (PPC) advertising and search engine optimization (SEO).
Is digital marketing a good career?
Maybe you're looking for more than just a value-add for your business; maybe you're ready for a career change and wondering if digital marketing is right for you. This field couples high earning potential with a low barrier to entry. It's ripe with opportunity and promises to keep growing on pace with internet usage. It is currently in LinkedIn's top 10 most in-demand jobs.
Every business needs digital marketing, so landing a job in this field offers excellent job security, as well as plenty of room for growth for folks who can demonstrate consistent wins. It also pays well: According to data from ZipRecruiter, the national average salary for a digital marketing manager is $71,914, and digital marketing directors can earn well over six figures. According to the Bureau of Labor Statistics (BLS), marketing managers are among the top ten highest paying jobs in 2021—and continue to grow despite pandemic effects.
Digital marketing can also be attractive because it allows flexible scheduling and remote work. It's also dynamic, presenting new challenges and technologies almost daily. If you are disciplined, creative, and seeking an exciting, ever-changing occupation, digital marketing can be a stimulating long-term career choice.
How to get started in digital marketing
If you do not have experience in digital marketing, get your foot in the door through online courses and side projects.
"Start a site, start a blog, try affiliate marketing, run small-scale digital marketing campaigns," said Ken Berman, Director of Digital Marketing at edX. "You can gain a lot of interesting experience from building a website and how to capture that information and market to those people—the barrier to doing that is lower than ever now."
Learn digital marketing skills
Whether you're looking to change careers or add value to your business, you have nothing to lose and everything to gain from learning digital marketing skills. edX hosts a variety of marketing courses and programs that can help you get started on your journey.