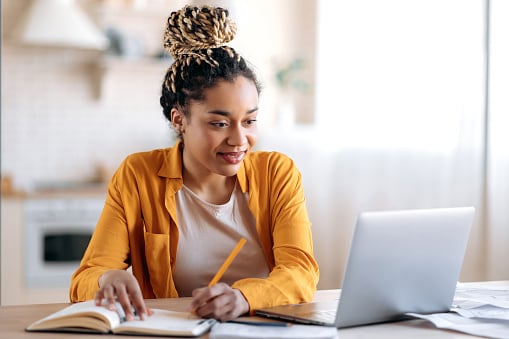 What Are the Pros and Cons of Online Learning?
Online education is trending. Massive open online courses, free virtual learning opportunities available to the public, reached more than 180 million learners in the first 10 months of the pandemic. In the fall of 2020, more than 5.8 million college students enrolled in distance education programs.
Companies have also embraced eLearning for employee training. By 2019, corporate eLearning had already driven income increases for 42% of organizations, and its popularity continues to surge.
What are the advantages of online learning?
Online classes aren't second-rate alternatives to in-person learning. The virtual classroom offers its own benefits, many of which aren't available in a traditional setting.
Better accessibility
For many students, in-person learning environments aren't particularly accessible. It might be difficult for them to get to class, hear what others are saying, or read course material from a screen or whiteboard.
Online coursework can be more adaptable, flexible, and friendly. Students with and without disabilities can:
Use technologies like screen readers and voice-to-text software to access learning materials
Make digital text more readable by changing the font or size
View lectures and discussions with subtitles
Create a distraction-free and trigger-free environment
If you're not sure what adaptive technologies could work for you, talk to your course provider.
Learn at your own pace
On-campus classes have specific times and places, and assignments have certain due dates, no matter what. If you fall behind or miss a few sessions, it's hard to catch up.
That doesn't work for everyone—and it doesn't have to. With online courses, you view lectures and complete assignments at your convenience. You can:
Go back and review material you're unsure about
Slow down or rewind lectures
Attempt assignments more than once
With the flexibility of online courses, it's easier to master concepts before moving on to new ones. You can even pause a course and complete an introductory tutorial or class if you find yourself struggling with the material.
Meanwhile, you build self-discipline and time management skills as you carve out study time and balance school with other responsibilities.
Programs at (nearly) every level
Whether you're new to a topic or have years of professional-level experience, there are online programs available to suit your needs. You can review high school algebra or pursue a master's degree in a growing field like data science, supply chain management, or public health.
Unmatched convenience
From high school to higher education, most in-person learning requires you to arrange your life around school work. In community colleges, students travel an average of 10 miles one-way to attend class. Commutes like these cut into work, study, and family time, and can cost upwards of $1,800 a year—more than the cost of books.
Commuting to class also means rearranging your out-of-school life—changing work shifts, finding childcare, and so on. With distance learning, all you need is a reliable internet connection and a computer with internet access. You can learn from anywhere at any time, even when life gets busy.
Courses from top schools
Thanks to the increasing popularity of online programs, you don't have to limit yourself to schools in your area. Top institutions like Harvard, Princeton, and MIT offer high-quality courses through online learning platforms like edX. These courses feature many of the same instructors and materials as in-person classes, but you don't have to uproot your life to study.
Broader networking opportunities
According to HubSpot, 85% of all job matches happen through networking. In-person learning offers some networking opportunities, but you're limited to meeting people who live near your school.
In online learning programs, including online college, you can network with a wider variety of people. For example, you might enroll in a computer science course and meet a classmate who's already working in tech. That person could be your connection to an employer in your dream city.
What are the disadvantages of online learning?
No learning experience is perfect, and the online environment doesn't work for everyone. Like any setting, it has its disadvantages. It's important to know what those are, so you can decide if an online course is right for you.
Limited social interaction
In-person classes provide plenty of opportunities to interact, from pre-class small talk to in-depth group discussions. Each of those moments are important for building relationships and networking.
Online classes can't provide as much interaction, though there are ways to build it back in. Synchronous classes, where students attend virtual lectures at the same time, may have group discussions in breakout rooms. Instructors may assign group projects and encourage students to "meet" online in their own time.
But not every online class provides those opportunities. Massive open online courses, or MOOCs, are self-paced and usually don't allow for face-to-face interaction with instructors or classmates. Students may still be able to network through bulletin boards, discussion forums, and emails, but there's often no real-time discussion.
This solo learning style works for some students, but it's a drawback for others.
More self-discipline required
When you study from home, you have to motivate yourself to set a schedule, attend classes, and complete assignments. It's especially challenging with classes that are entirely self-paced, with no set class times or due dates.
The need to self-motivate can make online classes more challenging, but developing that discipline will help you in the long run. Completing an online course shows an employer that you're driven and dedicated to growth. It also helps you to become more disciplined in independent work situations.
Varied course quality
Not all online courses are well-designed and well-taught. Nearly anyone can design and offer a class via the internet, whether or not they're experts in their field. It can be challenging for students to determine if a course is worth their time and money.
Your best bet is to find a reputable online learning platform. edX, for instance, works with universities from all over the world to offer stand-alone courses, certifications, and online degree programs taught by top scholars and industry experts.
Is online learning right for you?
Online classes offer a great way to further your career, train for a new one, and learn something new. They're ideal for self-motivated people who need education to fit their lives, not the other way around.
If you're interested in taking an online course or degree program, check out edX's portfolio of online courses. There are more than 3,000 options, from Ancient Masterpieces of World Literature to Bitcoin and Cryptocurrencies. You never know what you'll learn next.